Virtual Extrusion Laboratory

™

- Spiral Die Module
The COMPUPLAST® VEL™, Spiral Die module™ is used for the analysis and design of the types of dies that are typically used in tubular (blown) film production. Using the fast, Control Volume Method (CVM) of mathematical analysis, or a fully 3D Finite Element Method (FEM), this module can provide the user with an accurate prediction of the expected die performance.
The parametric geometry editor allows a user to create and optimize a design quickly and efficiently.
Combine it with the Multi-Layer or 2D FEM module and you have all the tools you need to analysis and design annular type multi-layer dies.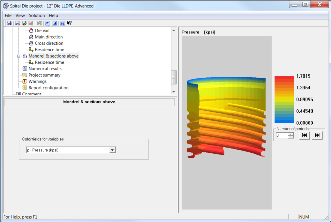 The VEL™, Spiral Die module has been developed with the extrusion process engineer in mind.
Many world class blown film extrusion die manufacturers use the Spiral Die module as a part of their daily design procedures. Many processors and technical service personnel use this module to study and analyze the effect of resin changes on their process.
In addition to tubular film dies, this module has also been successfully applied to the design of profile, tubing, pipe and blow molding dies. In fact, any extrusion application requiring a uniform annular flow can benefit from the Spiral Die module.

The VEL™, Spiral Die module™ Features Summary:

Intuitive user-friendly graphical interface

Fast and easy parametric geometry definition

Residence time analysis

Material degradation elimination

Analyzing distribution in spiral system to deliver even layered coex structure

Optical defects elimination

Inlet round and "U-shape" distributor system analyze included

Includes annual coex channels

Fast, efficient solvers

Includes fast CV solvers and also full 3D FEM solver

Custom report configuration

HTML report

Ability to export the results into Excel file

Powerful post processing




Design and/or optimization in: