Virtual Extrusion Laboratory

™

- 2D FEM Module
The COMPUPLAST® VEL™, 2D FEM module™ is used for the precise analysis, optimization and/or design of 2D flow channels of arbitrary shape. Based on the Finite Element Method (FEM) of mathematical analysis, the program can provide very detailed information about a flow field. Recirculation regions (vortices) or stagnant flow regions which result in excessive residence time for the material can be easily observed.
Areas of excessive shear stress, which can lead to surface or interfacial defects can be investigated. More importantly, the design or process engineer can use this module to ensure that the design of the flow channels avoids these types of problems. The user friendly, intuitive, interface allows you to create, test and optimize many designs quickly and efficiently.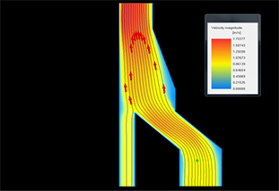 The VEL™, 2D FEM module has been developed with the extrusion process engineer in mind. From wire and cable coating to coextrusion die design, this module is used to provide valuable design information in virtually any extrusion process. Equipment Manufacturers use the module to analyze and design equipment for commercial applications in a wide area of extrusion including, pipe and tubing, cables, fiber spinning, blown film, blow molding, flat sheet and film with up to 10 layers. From a process standpoint, this module has been used to investigate various phenomena such as "shark skin", "die drool", "extrudate swell" and "interfacial instability". The versatility and ease of use have truly made this module a valuable CAE tool.

The VEL™, 2D FEM™ module Features Summary:
Intuitive graphics interface




Planar or annular flow fields

Obstacles in flow field

Automatic Mesh Generation

Coextrusion - up to 10 Layers/Materials

DXF import for fast and easy geometry entering

Fast and precise solver

Powerful post processing

output to AVI video format



The VEL™, 2D FEM™ module can be used for following applications:
Optimization of dies for

Pipe and tube extrusion

mono and coextruded pipes

spiral die coex annular channel design and/or optimization




spider die channel design and/or optimization

material degradation problems

interfacial instabilities

Optimization of axisymetrics dies for

Cable extrusion




drag flow simulation

material degradation problems

product surface quality

interfacial phenomena in coextrusion

material

adhesion to the cable
Fiber spinning

die design and/or optimization

material degradation problems

size of halls for fibers uniformity

surface quality optimization

stretching conditions

Optimization in

Sheet and film extrusion

process

mono and coex flat channel design and/or optimization

feed block design and/or optimization

interfacial instabilities

product surface quality

material degradation problems

Optimization in

Blown film extrusion

mono and coextrusion axisymetric die design and/or optimization

material degradation problems

product surface quality

interfacial phenomena in coextrusion