Virtual Extrusion Laboratory

™

- Extruder Module
The COMPUPLAST® VEL™, Extruder module™ is used for the analysis and/or design of single screw extruders. The program is capable of simulating the performance of virtually any screw design from relatively simple, compression screws to more elaborate, multi-flighted, screw designs with multiple mixing sections.
The module can also simulation vented extruders that are used for materials that require de-gassing or moisture removal. Whether the VEL™ Extruder module is used for the development of new screws or the optimization of existing designs, the user friendly, intuitive, interface allows you to create, test and optimize many designs quickly and efficiently.

The VEL™, Extruder module has been developed with the extrusion process engineer in mind. The program allows the user to build a virtual extruder by defining the barrel length, the number of heating/cooling zones and the screw geometry. Once this has been done, the user can then define a project which specifies the conditions under which the extruder is operated.
This makes it very easy to evaluate the performance of a particular extruder/screw combination under a variety of conditions and materials before you even step onto the plant floor. This improves experimental efficiency and greatly reduces the time and cost of product development.

The VEL™, Extruder module™ Features Summary:
Intuitive user-friendly graphical interface

Easy entry of all kind of complex geometries

Conventional and Barrier screw designs with all kinds of screw roots

Single or multiple flighted screws

Vented section capabality

Foaming additives

Grooved sections

Flexible boundary conditions setting:

Temperature zones settings

Material temperature control

Solution for RPM for required mass-flow rate

Solution for mass-flow rate for required RPM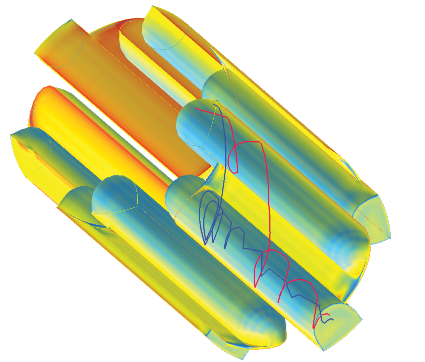 Full 3D solved mixing elements:

Spiral fluted mixer

Fluted mixer

Dumage mixer

Saxton mixer

Other available mixing elements:

Pineapple mixer

Blister mixer

W-shape mixer

Fast, efficient solver




Powerful results visualizations

Power consumption calculation

Residence time calculation

Forces generated on the screw

Custom report configuration

HTML report

Ability to export the results into Excel file

Powerful post processing