Virtual Extrusion Laboratory

™

- Profile Die Module
The COMPUPLAST® VEL™, Profile Die module™ is used for the precise analysis and design of profile cross-sections of arbitrary shape. Based on the Finite Element Method (FEM) of mathematical analysis, the program can provide very detailed information about the flow through the profile shape. The pressure drop, velocity distribution and shear stress distribution are just some of the flow characteristics that can be evaluated. More importantly, the designer or process engineer can use this module along with the COMPUPLAST® profile die design procedure to reduce product development time by 50% or more. The user friendly, intuitive, interface allows you to create, test and optimize many designs quickly and efficiently.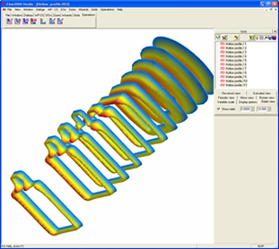 The VEL™ , Profile Die module has been developed with the extrusion process engineer in mind. From simple square or round rod profiles to complex window profiles, this module is being used by profile extrusion companies, world wide, to make new designs or optimize existing ones.
Profile Die module has the Auto Meshing feature and by this has significantly reduced the time it takes to simulate the flow in profile die cross section and COMPUPLAST® Auto Flow Balance™ automatically adjusts the geometry to obtain the required flow distribution.

Among the new features and improvements is the ability to simulate wall slip effects which make the program even more accurate in PVC applications. From a process standpoint, this module has been used to investigate the effects of changing materials or to determine the maximum extrusion speed for process optimization.

The VEL™, Profile Die module™ Features Summary:

Intuitive user-friendly graphical interface

DXF import for fast and easy geometry entering

Design and/or optimization of profile dies

Automatic meshing feature

Optimization Feature -

Auto Flow Balancing Feature

Cross Flow Minimization Method™

Allows various flow balancing methods

Local mass throughput/area integration

Slip at the wall boundary condition

Fast and efficient solver




Precise results




Image/results saving capability

Output to AVI video format




Powerful post processing




HTML report

Applicable for simple to complex profiles in:

Medical applications

Window profile extrusion

Wooden profile extrusion

Sealing profiles in automotive industry

Simulation of profile cooling is available in our Cooling

our VEL™,

Cooling module

™