COMPUPLAST® Consulting Services


We offer full CAE analysis and design services for any extrusion processing application. From extrusion screw and die design to co-extrusion analysis, we can provide you with the engineering services you need to get the job done right the first time.
Contact us, at your convenience, to discuss your upcoming project/problem with our polymer processing experts.
Our extrusion experts have vast experience in a variety of extrusion applications. Using sound engineering principles and state-of-art simulation software, we can provide you with design, optimization, and/or troubleshooting services for:
Extrusion Screws
Reduce trial-and-error

Improve melt quality
Eliminate degradation
Increase output
Profile Dies
Reduce trial-and-error
Increase output
Improve flow distribution
Reduce the sensitivity of the die to processing conditions

Blown Film Dies
Reduce trial-and-error
Improve flow distribution
Eliminate degradation
Eliminate flow lines
Eliminate flow instabilities

Sheet & Cast Film Dies
Improve flow distribution
Eliminate degradation
Eliminate flow lines
Eliminate flow instabilities

Pipe Dies
Improve flow distribution
Improve concentricity
Eliminate degradation
Eliminate flow lines
Eliminate flow instabilities

Cable Coating Dies
Improve flow distribution
Improve concentricity
Eliminate degradation
Eliminate flow lines
Eliminate flow instabilities

Multi-Lumen Dies
Reduce trial-and-error
Increase output
Reduce the sensitivity of the die to processing conditions

Adaptors
Eliminate degradation
Reduce pressure drop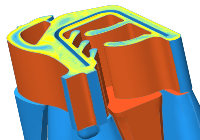 Rubber & TPE Dies
Reduce trial-and-error
Increase output
Reduce the sensitivity of the die to processing conditions